New Beginnings
3-Months remote Light Program
For periods of profound change
Fill Your December Days with Healing Light

Each morning a Light Parcel by email
December can be a challenging month. Would you like to fill your December Days with Healing Light? Then The 22 RAYS email program is for you.
The Mary Magdalene Light is the purest of pure feminine Spiritual Light.
Each morning you receive an email that delivers The Ray of The Day, one of the 22 Divine Feminine Qualities. As soon as you open it, your heart will receive a boost of uplifting and healing Light!
The 22 RAYS works a bit like an advent calendar. In three weeks we build up to the peak: the 24-hour Mary Magdalene Light Transmission on the 22nd of December.
Get a sneak preview of the 22 Rays email program and download our free e-Book!
22 Days of Spiritual Support, Growth and Healing
Hello, I'm Harriët Kroon, and I would like to invite you to join this worldwide Gift of Light.
We live in the era of the Rise of the Divine Feminine Energies, which means that we – all genders – may let go of patriarchal patterning and heal feminine woundings. 
If you are seeking growth and healing in one of the following themes, then The 22 RAYS is for you.
Fill Inner Emptiness with
Nurturing Love
Perhaps you experience a hollow void in yourself because your mother was not able to nurture you emotionally. The Mary Magdalene Light is the most soothing and nurturing Unconditional Love you can imagine.
Awaken Hidden Feminine
Qualities
The Mary Magdalene Light helps to recognize and embrace innate feminine qualities that are not valued by society but of crucial importance to your health and well-being (e.g. intuition, compassion, gentleness, care, harmony.)
Align with the Divine
Feminine Forces
The Mary Magdalene Light is an evolutionary Light. It supports you in your personal evolution and can realign you with the two mother principles that carry you: Mother Earth and the Primordial Feminine Force that embraces the Universe.
Heal Patriarchal
Woundings
Our patriarchal history has distorted the masculine and feminine balance within ourselves. The Mary Magdalene Light heals masculine and feminine woundings.
Heal and Cultivate
Self-Love
The Mary Magdalene Light helps you gain a stronger sense of self-worth, including positive feelings about your body and sexuality.
Clear Negative Energies from
Your Aura
The Mary Magdalene Light is a Spiritual Light that clears your aura from negative energies that do not serve you any longer.
Discover the many qualities of Her Light
The 22 RAYS represent the 22 Qualities of The Mary Magdalene Light. Each day one specific Ray will be addressed and you'll be amazed how that quality will then surface in your own daily life for you to see, wonder and embrace. You may trust that you will receive the healing and insights you need, like so many people who have experienced The 22 RAYS  before.
Harriët Kroon, Channel of The Mary Magdalene Light
Experiences with
The 22 Rays email program
Deepening the intelligence of my womb and heart

"Over the course of the email programme I experienced a deepening of the intelligence of my womb and heart and their connection. Some Rays were nurturing and holding, others more actively 'pushing through' – but all healing. "
What's Included in The 22 Rays
The program can be started at any moment in time
Energetic preparation (from the date that you sign up) to prepare your system to receive all benefits from this Light Program

15 Minutes of daily quality time for yourself

22 Spiritual Teachings sent daily by email from 1-22 December

22 Rays of Light, one per day in a five minute Light Transmission

24 Hour participation in The Mary Magdalene Light Transmission on the 22nd of December, includes a 1 hour focused healing (remote)

Access to a private, sacred and secret Facebook Group for connecting and sharing with other participants (optional)
When you add it all up, the value of the program is at least 400 Euro.
But how can you put a price on your growth, healing, and self-worth? It's priceless really.
My Path to Healing
I'm Harriët Kroon, Channel of The Mary Magdalene Light
I was born in 1963 and live in Amsterdam, the Netherlands. I studied Cultural Anthropology, attained a second degree in Journalism, had a career as a journalist, editor and author, and then ended up in crisis. My breakdown became my breakthrough, but it took years to reconnect with my soul and its longings.
Nowadays I am the Heart of the Divine Plan Healing School, Mother of the Divine Plan Healing System, Teacher of the Emerald Heart School of Enlightenment and Channel of The Mary Magdalene Light. I serve people all over the world with distant healings and online consultations, trainings and events.
My healing path led me to become a Reiki Master and ThetaHealer and complete 5 years of therapist training at the Barbara Brennan School of Healing. Then I discovered The Emerald Heart School of Enlightenment and finally felt my soul had come home.
My life's missions are to bring The Emerald Heart Light and The Mary Magdalene Light into the world, and to help people to step into their unique blueprint, onto their path and into their gentle power.
The 22 Rays Podcast with Harriët Kroon
Find out even more about this unique, spiritual email program in a podcast interview by Stephan. In this episode, Harriët introduces the first edition of THE 22 RAYS, offered in December 2019.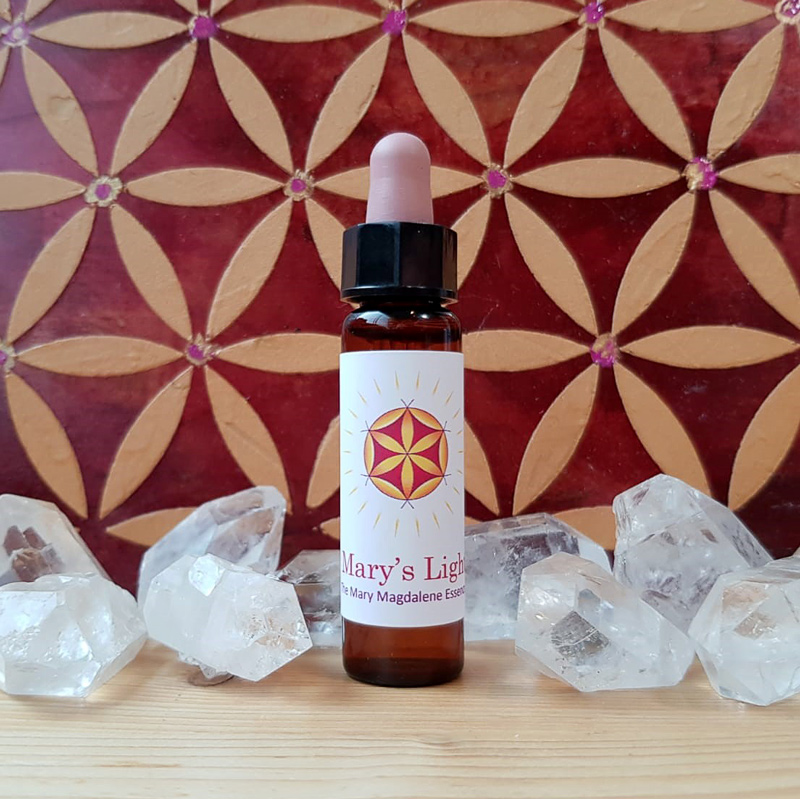 Optional Extra
The Essence Vibration Mary's Light
If you like, you can opt for a unique extra: the Mary's Light essence vibration. It is The Mary Magdalene Light captured in a bottle. This essence will enhance the overall effect of The 22 RAYS. Its key notes are soothing, calming, nurturing, mothering.