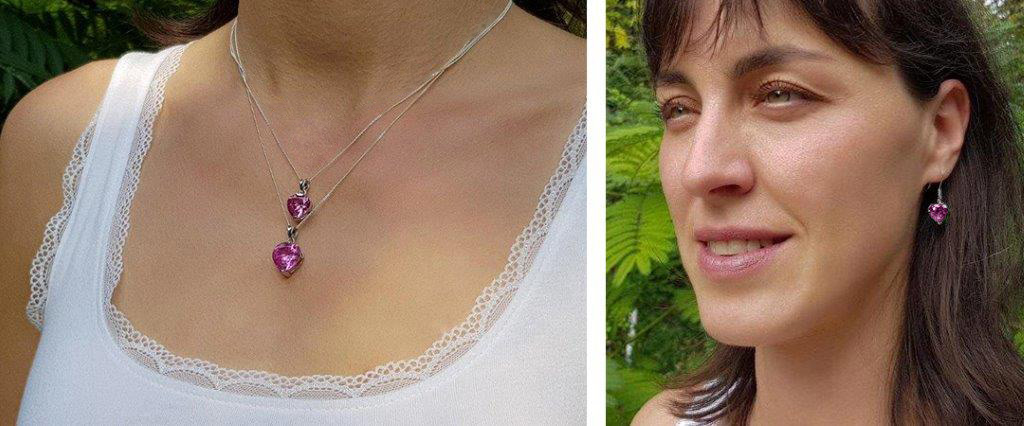 Radiate with Light-Infused Accessories
Carry The Mary Magdalane Light with you at all times
We can well understand your desire to carry the healing and mothering Mary Magdalene Light with you at all times. Take a look at our line of stunning and unique accessories, infused with this pure and feminine Spiritual Light.
Our radiant, multifaceted sapphire pendants and earrings are charged with The Mary Magdalene Light. Whether on your heart, around your neck or on your ear lobes surrounding your face, this exquisite jewellery is sure to catch the eye. Our pink sapphires raise your spirits and fill you with light and love you can then radiate out to those around you.
Would you like to experience HER loving hug at all times? Then how about our gorgeous silky scarf which brightens the darkest of moments with The Mary Magdalene Light.
Feel great and look it too
Our accessories make you feel great from deep within your being and brighten up all around you:
The Mary Magdalene Light helps you reconnect with your innate femininity and self-love
The pink sapphire gemstone works on the heart chakra, clears emotional blockages, brings joy and unconditional love
The pink sapphire is known as the stone of wisdom and insight
The highest quality
Pure gemstones in top-grade sterling silver
We believe in quality and durability as we want you to enjoy your exquisite jewellery year after year. The sapphires are thus set in solid 925 Sterling silver and finished with a fine layer of Rhodium (sometimes called white gold) to prevent tarnishing and enhance their radiance.
Our sapphires are cultivated in a laboratory, a pure environment, without any soiling hazards, heightening their power compared to stones found in nature. This purity boosts the incredible amount of radiant Light they can store.
Choose your Light-Infused Accessory
Experiences with wearing
Light-Infused Jewellery
'They feel wonderfully special!'

'I wanted to share with you that yesterday I received the package with jewellery that you sent, the pendants are so beautiful, and they feel so wonderfully special! What an amazing gift! Thank you so much!'
FAQ – Light-Infused Accessories