No wastage:
How to reuse our dropper bottles
Follow this simple 3-step procedure
You can refill your empty essence bottles with new essence vibrations.
Just follow this simple procedure:
Start with removing the dropper from your finished essence bottle.

Next boil a little water in a pan, add the vial and let it boil for 3 to 4 minutes.
Take it out and remove the original label with a knife.

Now it is the turn of the glass part of your dropper to be sterilised.
Beware to not place the plastic and rubber parts of your dropper in the boiling water.
Squeeze the top a few times, in order to fill and empty the glass part with boiling water.
The dropper and your bottle are now sterilised and ready to be used again.
2)

Re-filling your bottle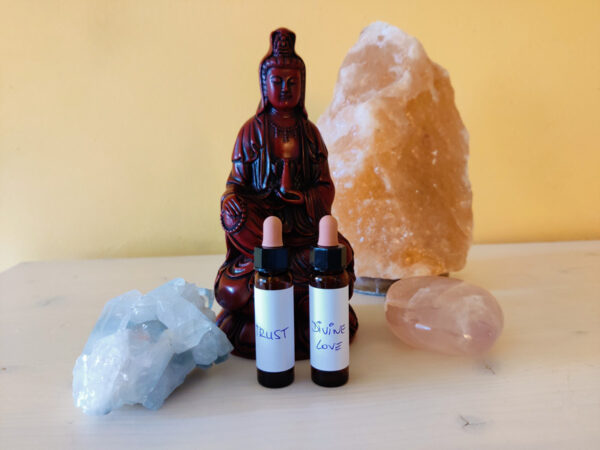 You will now fill your vial with either pure mineral water or a mix of alcohol and mineral water
Option 1: 100% water based
The mineral water needs to be still (NO bubbly water, NO tap water and NO filtered tap water) and come from a NEW, UNOPENED bottle. You need to be the first to open it.

Option 2: with alcohol as a preservative
You need to use an alcohol that contains around 40% alcohol (for example vodka, gin, cognac). Fill the vial to around a third with the alcohol of your choice, before filling it to full with the still mineral water as explained above.
Now write the name of the essence vibration you are going to receive on a label.

Stick the label onto your bottle.

Place this labelled vial on your altar or any other sacred place in your house.
3)

Asking for your essence vibration
Next you need to send Harriët an email letting her know your bottle is ready.
As title of your email in the subject line, please specify 'Essence Request' as she gives these priority.
Very important is to specify WHICH essence vibration you are requesting


Refrain from touching the vial as it is being recharged.

Harriët will start transmitting the vibration the minute she receives your email. She will send you a message notifying you that your essence will be ready for use in 24 hours.